Diamond & Blade Style Cylindrical No-Go Gage
Used to inspect holes for out of round condition.
Applied to the No-Go gage pin (max hole diameter).
An out of round hole may pass a round gage pin. (The full diameter No-Go will not enter.)
By reducing the diameter to contacting only 1/3 of the hole diameter, the inspector can rotate the gage to locate oversize areas of a hole at min material condition.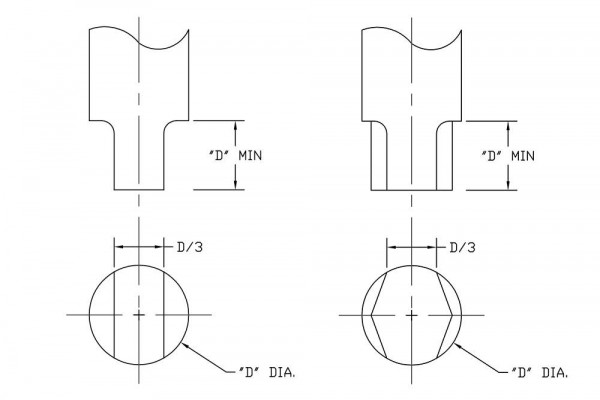 Air Flats, "D" & "DD" style Cylindrical Gages
Air Flats
Used to inspect blind holes.
Allows the inspection of the diameter to the bottom of a blind hole.
The flats allow for trapped air, coolants and oils to escape.
"D" & "DD" Gages
May be used to inspect the diameter or flat of parts with a flatted hole ID, independently.
One Go / No-Go plug gage inspects the hole diameter and clears the flat dimension
The second Go / No-Go plug gage inspects the flat dimension and clears the diameter.